Description
AVG TuneUp
Speed up, clean up and fix your PC with our advanced PC performance optimizer
More PC power than you ever thought possible
Make your old PC live longer — and your new PC run faster — with AVG TuneUp. Our PC optimizer comes with revamped Sleep Mode technology to boost your PC speed and performance, and Disk and Browser Cleaners that free your storage space. Want more? Read on.
Fixes and maintains your PC automatically
Tired of bugs, crashes, and freezes? AVG's improved Automatic Maintenance tunes your PC every week for you, so you can simply enjoy better performance, 24/7.
Cleans your registry automatically
If you want your Windows operating system to work as it should and avoid errors and crashes, let AVG TuneUp identify issues in your registry and fix them automatically.
Cares for your PC with Automatic Maintenance
Our automatic maintenance cleans up browser traces, tracking cookies, cache files and program leftovers for more disk space.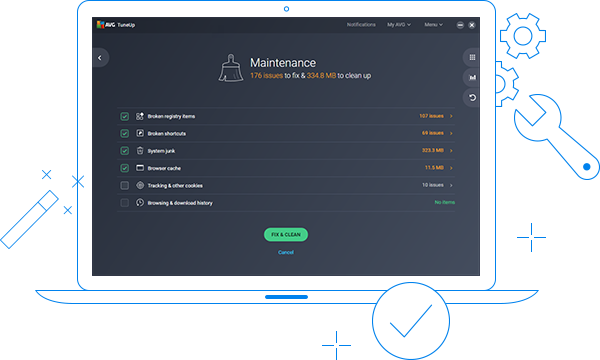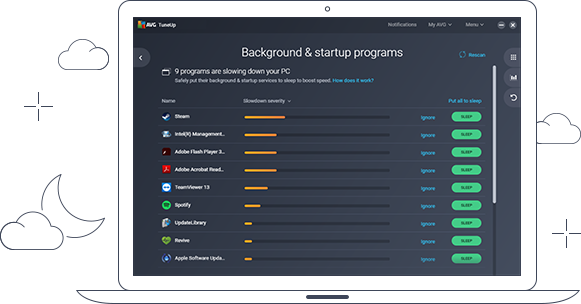 Speed up and tune up your PC
If your PC takes too long to boot, your programs run slowly, your games stutter, and the web slows to a crawl — AVG TuneUp is the solution you've been looking for. Yes, it works. Here's how:
Optimize your PC with Sleep Mode
Installed programs slow you down by hogging your PC memory and CPU. Our completely revamped Sleep Mode technology puts them to sleep and wakes them up when you need them — and not a moment sooner.
Remove bloatware and junk programs
Old unnecessary programs, toolbars and trial versions, software that came preinstalled in your PC… they take up space and can cause trouble down the road.
Find and remove unwanted software with Software Uninstaller
Our Software Uninstaller detects bloatware and helps you get rid of it, together with programs you no longer use — and forgot you had.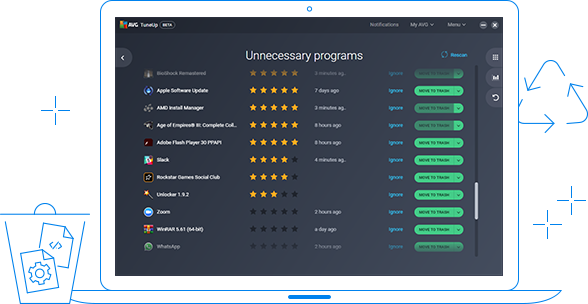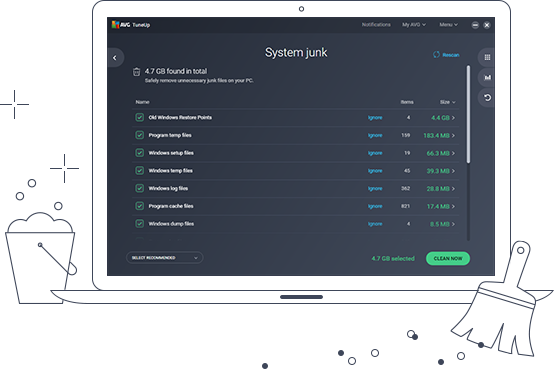 Liberate your storage space and clean up 200+ apps
Your PC starts to accumulate junk and clutter from the very first day: leftover Windows files, junk from the web, and your own program's residual files. You don't want or need any of it — it just eats up space and can cause problems over time. We've got two solutions for you:
Deep-clean your hard drive with Disk Cleaner
From installer files to the cache. From old backups to temporary system files. They've fulfilled their purpose, but now they're just dead weight — so we clean them up and make space for the stuff that really matters.
Surf lighter and faster with Browser Cleaner
Temporary data and online leftovers? Gone. We remove the files that Internet Explorer, Chrome, Firefox, etc can't get rid of by themselves. The result? A lighter, faster, less buggy browser.
Gets all your programs up-to-date with one click
Prevent security issues, bugs & irritating installers: AVG TuneUp's Software Updater checks your installed software, such as Java, VLC and Skype, and easily updates them all to the latest, greatest versions.
The zero-hassle Software Updater
Wine gets better with age. Software doesn't. Our Software Updater works fully automatically and supports updates for more than 50 of the most popular apps – with more added regularly!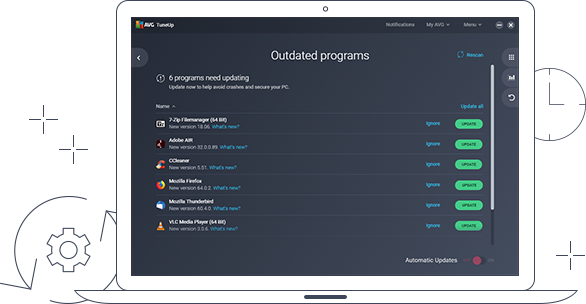 Let's talk numbers
The 2019 AVG TuneUp release has exceeded expectations! Here's our official numbers (full whitepaper coming soon).
0
%
Quicker startup (Surface Book)
0
%
Faster work performance (Alienware desktop PC)
(in points)
10421 pts
7990 pts
0
GB
Cleaned up (2012 Ultrabook)
(in GB of free space)
151 GB
80 GB
Usage
For personal and family use only. Not for business or commercial use.
Languages
For Windows: Chinese (traditional), Chinese (simplified), Czech, Danish, Dutch, English, French, German, Indonesian, Italian, Japanese, Korean, Malay, Norwegian, Polish, Portuguese (Brazil), Portuguese (Portugal), Russian, Slovenian, Spanish, Swedish, and Turkish.
AVG TuneUp
Speed up, clean up and fix your PC
Updating price. Please contact: 3153 2760 for more details.